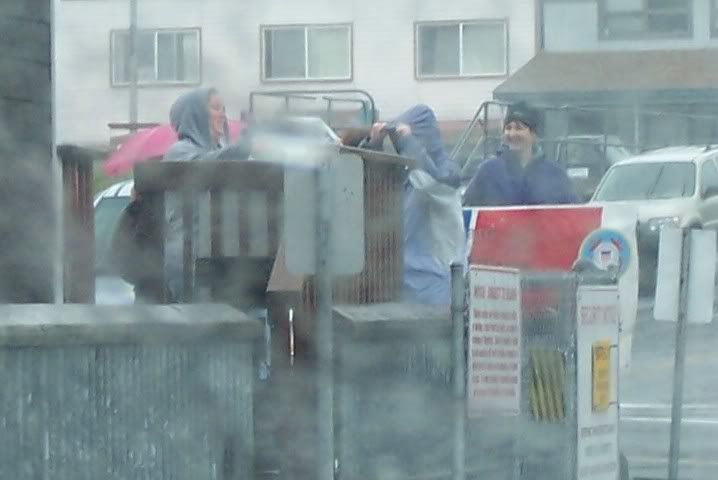 I've been horrible about not posting any info or pics. It's been a whirlwind of a month (almost) since we arrived on the 14th of June. We arrived to typical Kodiak weather: cold and wet. Luckily we also arrived to the typical Kodiak friendiness: about 12 people waiting outside in the rain to greet us and welcome us to "the Rock". A couple are from the Coastie spouses forum I found online last fall and the rest were from the Officer Spouses Assn. We received a lot of goodies thanks to the hospitality of said greeters.
We stayed at the Best Western across from the marina for 10 days then moved into our new house on the 24th and slept in our sleeping bags b/c we were tired of being cooped up in a hotel. Our household goods were delivered two days later and most everything was in tact. Much better than I anticipated with the 5500 mile trip it had to make by both land and water. Some of the walls got dinged up while they were delivering, but the company is sending someone out to fix it for us here soon. We have most of the house settled, now we just have to get it organized and the rest of the pics hung.
Here's what we look out to from our deck at midnight. Nice, huh?
We joked and said that we did more walking in the first week we were here than we did the entire time we were in Clearwater. We found some trails and walked around the marina too. There is a big bear statue at the marina that Snowflake likes to attack and terrorize. Let's hope if she ever sees one in real life she'll run and not try to attack.
We've made some good friends here already:
Stefanie and Devin
who we have hung out with quite a bit. Devin and Zach were in flight school together. He flies "the other helicopter" - the Dolphin. Those guys have it rough, they have to go on long deployments. Devin leaves soon for about three times as long as Zach has to deploy for and his was cut in half because someone took part of his so he could get settled in to the island. Isn't that crazy? We have it so lucky.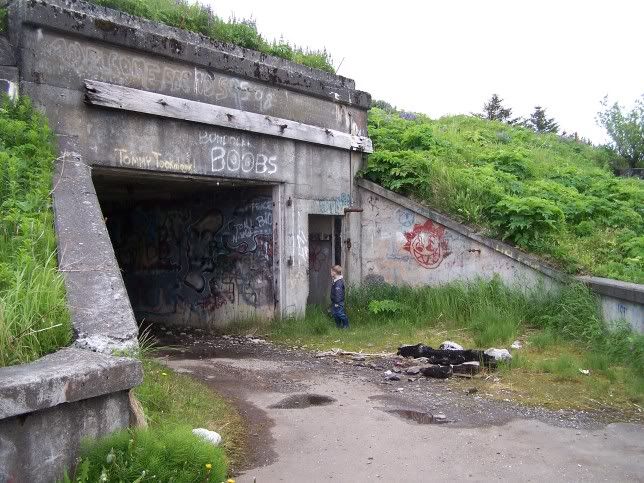 Marci and Josh
and their son Josh have been great too. She took Stefanie and I off roading in Chiniak (on the other side of the island - about an hour away) the first week we were here. It was a blast. We found an old WWII bunker that we will find again when we have the guys with us. You never know what (or who) may be hiding in there, so we didn't want to go in alone.
We had a GREAT 4th of July. Our cul-de-sac had its annual BBQ and fireworks at night. That was great fun. We met a lot of the neighbors and realized we must be on the safest street on the island. We have a firefighter next door, three other CG families, 2 nurses, and a lawyer on our street.
We also went to the base cause there was a big shindig going on at one of the duplex areas. There were tons of people there! They had a fire pit and the kids were running around in bathing suits - or birthday suits as they saw fit - playing in the sprinkler then warming up by the fire pit eating smores. It was a blast. We came back home around 9:30 and the neighborhood party was still going on so we stayed outside to watch them shoot off fireworks. A good time was had by all.
Ok, so yesterday, we decided to hike this mountain with S and D. I've never climbed a mountain before, so I was excited. We had plenty of options, but decided to go up Old Woman. Oh....my.....goodness! That thing never seemed to stop. It took us about 1 hr. 20 min. to climb up. Everytime we thought we were to the top, we looked and the trail kept going up, so we'd go up further. I thought we'd never find the top, but we did. Luckily, the dogs helped pull us up. Unluckily, they kept trying to pull me down too, so Z ended up with both dogs. It was a lot of fun though. D carried his shotgun on his back in case we ran into any bears. On the way up we talked to some people coming down who had seen one that morning. SO glad we didn't see one, although it would have been very cool, I probably would have peed my pants. lol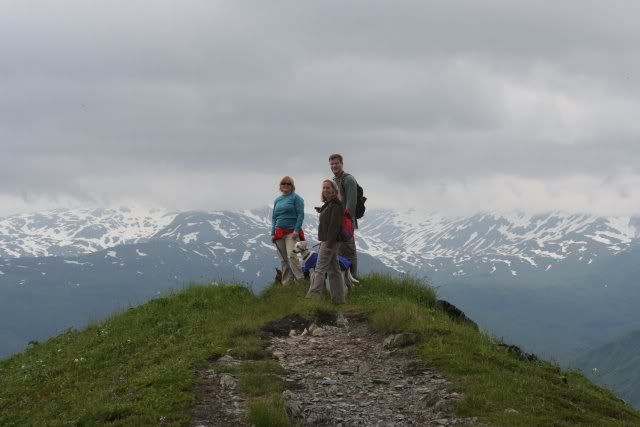 I think I know why the mountain is called Old Woman too. Some say it's because an old woman could walk up, but I think it's because you feel like an old woman the next day. Man, we came home from church and the grocery, made stoup and fell asleep watching Shrek. When I go up Z asked if I wanted to go for a walk. I don't know how I did, b/c my shins are so tight, but we did and I feel a little better. Once we got back we worked on the garage a little. I actually want to park in the garage for once. We will NOT allow it to get so stuffed that I can't park in there. His Chevelle will have to stay outside.
Ok, folks. Like I said, I'm sorry I haven't updated before now. I'll try to do better and keep up with it at least once a week if not more. I'll try to do more though. Miss you all!