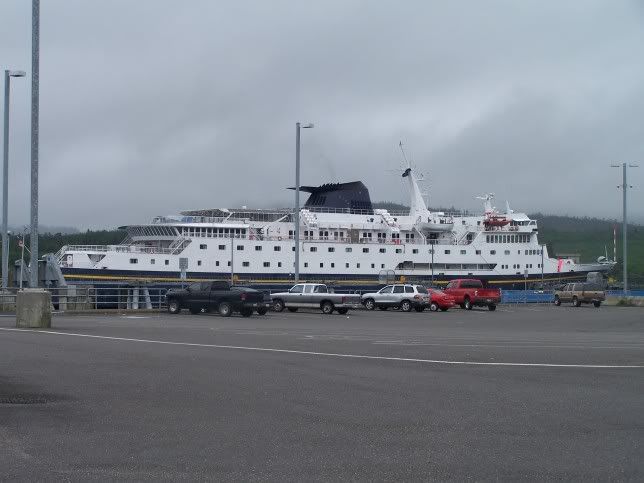 After much tossing and turning and a little heaving we made it safe and sound back to dry land. Actually it really wasn't that bad. Beth didn't even get sick. And the girls were fantastic!!! They didn't mess up the car at all, even though they were trapped inside for hours on end. They were unable to go to the bathroom on the ferry because they are so well trained that they didn't want to go on the hard deck. So the poor things held it for almost 2 days. The were certainly relieved to pull into Ketchikan...in more ways than one!!!
The ferry was a whole new experience for Beth. We were unable to reserve a stateroom so we did the next best thing and pitched our tent on the back deck!! Now that's traveling in style!! And believe it or not we weren't the only poor folks out there...there were at least 4 other tents on our deck and another half dozen on the deck below us. But at least we had some shelter and privacy. There were tons of people just sleeping in chairs or on the floor. Surprisingly we had really good nights of sleep. The wind blew occasionally and really whipped the tent around but just when we thought we were going to be blown overboard the ferry would change course and the wind would die right down. We had our brand new -30 degree sleeping bags from Cabella's and we were toasty warm. The view along the inside passage was out of this world!!! Absolutly breath-taking!!!
Our days were pretty much spent doing whatever we wanted to do...reading, watching movies, taking pictures, sleeping, etc...Beth did get a little cabin fever towards the end. But then we were pulling into Haines, AK. Once we got off the ferry we were back in the car heading north. Getting into Canada was pretty easy. We didn't have passports and Beth's birth-certificate got packed in our household goods by accident but we had a really nice Border Patrol that let us through because her name was on my orders. We spent the night in Haines Junction, Yukon Territory Canada. We went to a restaurant where all the locals hang out. The hockey game was on and sure enough a local came in and said "Hockey, eh?" in a true Canadian accent. Beth and I both about lost it. Took everything we had not to laugh. I always thought Canadians saying "eh?" after every sentance was just a joke but it turns out to be true. Who'da'thunk'it, eh??
After Haines Junction we hit the ALCAN for real, and the ALCAN hit back. Even though it is paved for parts of it the frost heaves in the road are killer. Frost heaves are when water seeps down under the road and then freezes. The ice expands and pushes the pavement up in a little hump. It's like driving across an old fashioned washboard. I even let Beth have a go at it. She told me that she was gonna get an "ulcer from driving on that stupid road". I think I'll be driving most of tomorrow now.
Well tonight has us in Tok (Toke), AK. We were able to finally do some laundry and get un-stinkified. There is a really good restaurant here at Young's Motel, surprisingly good. We were able to have a fantastic dinner for very reasonable prices. Tomorrow has us getting to Anchorage for a few days of camping, visiting friends and relaxing. Both of us are getting really ready to be in our own home again and off the road but it has been a great trip so far and we've really learned a lot about each other.
It's now a little after 11 pm and the sun is just about to set so it's time to get some sleep before hitting the road tomorrow. (We're still trying to figure out how to get pictures added. We obviously have been able to add them before so we're not sure what's going on but trust us we'll get them on as soon as possible. They are worth waiting for.)